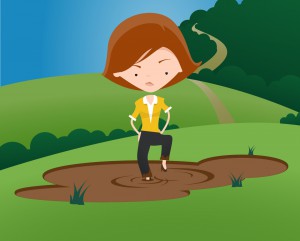 Editors at TechCrunch and ReadWrite say they've seen more poorly written contributed articles cross their desks recently than ever before. The editors at GigaOm are so tired of promotional articles being submitted for consideration that they are now refusing to consider articles submitted by PR and marketing professionals.
"Wading through the endless off-topic pitches in our guestpost@gigaom.com email inbox is a chore I'm loath to ask any self-respecting editorial person to do anymore; sure, you can throw out the obvious SEO scams, but the deluge of PR-submitted guest posts (most of which are clearly ghost authored) we receive each week forces us to wade through considerable muck in order to find the very small number of gems." - Tom Krazit, Editor-in-Chief, GigaOm
Contributing thought leadership articles is becoming one of the most valuable tools and techniques that we have as marketing professionals. Producing quality content that represents our clients well and meets the approval of some of the most experienced editors in the industry should be high on our priority list.
Consider these tips when pitching a contributed article to one of the top technology business publications:
Quality content – What is your point of view? Is it unique and timely? Will it initiate a discussion? Is there a clear takeaway for the reader? Include specific examples and real anecdotes to illustrate your point. Make certain it isn't too general and confirm the focus matches the core coverage area of the publication you are targeting.
Cut the promotion – This is a no-brainer but look at your article carefully, be certain that the premise doesn't even come close to subtly shilling your product. As one editor at a top technology business publication stated:


"If you are bringing up a problem that your company is well-suited to solve, you are probably on thin ice."

Prove your expertise and experience – Position the author as an influencer and strategic voice in the industry. Include a link to the author's Twitter profile, blogs and bio. Editors always have a preference for authors who have credibility, knowledge, expertise and a large social following.
Images – It always helps to mention infographics or screenshots to accompany the story. Make sure they are simple and clear and match the format of the publication.
Be authentic – The author of your article needs to be a C-Level executive. Even if the article is ghost written, you want to make sure the article expresses the voice and personality of the executive.
Follow these simple tips, and the guidelines provided by each publication, and you'll create excellent content and most likely have a real gem on your hands.