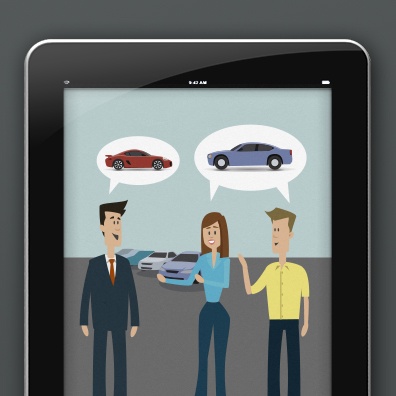 When my husband and I recently bought a new car, we began our search not by wandering from dealership to dealership, but by conducting several hours of research at home. We read dozens of reviews and recommendations, paying particular attention to those that examined the features and safety ratings important to us. We were just as interested in reading case studies about why buyers selected their cars as much as were in the experts' reviews. We searched industry publications like Consumer Reports and Car and Driver, consumer and car enthusiasts' blogs, and social media platforms like Facebook, Pinterest and YouTube. By the time we walked into the dealership, we had basically already made up our minds. The salesperson merely helped to validate our choice.
How does this relate to PR? I thought about how the auto manufacturers' PR teams might try to measure their efforts to influence our decision. They could all point to press releases that linked to photos and information on their web sites, and proudly hold up articles in the national automotive and business press. But those alone would not reflect all the other influencers who had a hand in helping us choose our new car.
We did not break any new ground with our research. Consumers and business decision-makers are now in control of the sales process. Like my husband and I walking into the dealership, by the time potential customers actually engage with your sales team, they have made up their minds.
So how can you evaluate how effective you are being at getting in front of your target audiences during the critical due diligence process? I recommend incorporating the Barcelona Principles, a set of guidelines established at a conference put on by the International Association for Measurement and Evaluation of Communication (AMEC) in 2010. They present the three necessary components for measuring any campaign:
Output: Collect and present coverage by media, bloggers, analysts and other influencers, but don't stop at simply tallying the total number of articles. Examine tone, share of voice compared to your competitors, whether your key messaging is included and accurate, if your spokesperson is quoted and whether articles feature graphics, photos and links to specific resources on your website. Create a scoring system based on these factors.
Outcomes: More difficult to measure, but also likely to be more important to your executive leadership team. Did your activities compel your target customers to make a purchase? If not, did they take other actions that may shorten the sales cycle, such as requesting more information or a demo.
Map to overall business goals: Focus on how the results are helping your company realize its broader metrics such as customer acquisition, growing the channel ecosystem, and revenue growth. Bringing PR into that conversation is the best way to demonstrate the value of your efforts.
What hasn't changed is the importance of establishing strong relationships with the media important to your market. The media landscape is undergoing its own significant (and often painful) evolution, but journalists remain a primary source for information your customers trust to guide their buying decisions. The old hardbound clips book may be a relic of PR past, but securing consistent and positive media coverage remains a foundation of any successful integrated marketing campaign. But the definition of "media coverage" now includes videos, podcasts Tweets and blog posts.
Therefore, when measuring the value of media coverage, don't worry about counting comparative ad values and circulation numbers. Focus instead on whether the journalists understand your story. Does the key messaging you've worked so hard to develop come across in their articles, and are they "talking" about you across their other platforms, like Twitter? Are these stories helping to build your brand and grow your company?
How we measure the value of PR has changed, but the value of PR has not. If anything, it's become more important in an age when there are so many influencers scattered across so many different outlets that advertising and other traditional marketing materials simply cannot effectively reach.