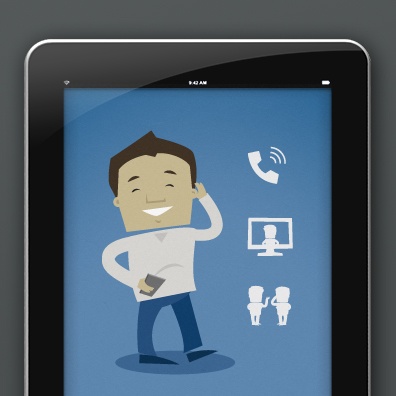 It was Mark Twain who said "if we were meant to talk more than listen, we would have two mouths and one ear." In the context of business communications, truer words were never spoken. Over the past 20 years of my career I've come to realize that "listening" truly is an art form and an important skill for any marketing professional.
Research has shown there are several listening styles that block our ability to listen. Check out the list below and see if you've ever been guilty of one or more of the following common roadblocks to good listening:
Mind reader (jumping to conclusions)
Rehearser (contemplating response rather than listening)
Filterer (hearing only parts of a conversation)
Dreamer (yielding to distractions)
Comparer (drawing comparison through past experience)
Derailer (overreacting to emotional words)
Guilty? I dare say most of us are at one point or another.
The trick is identifying which of these bad habits we have then working to make adjustments.
Once we've identified our most common listening road blocks, we can then take it a step further and deepen our ability to listen beyond the words to discern all there is to be heard. This form of listening is referred to as contextual listening and can be a marketer's secret sauce.
Here's a list I've kept over the years that is great for practicing contextual listening:
Quiet your mind and body — strive for an "ego-less" attitude focused on discovery of deeper meaning and understanding of the speaker's context.
Set aside your own agenda, assumptions and judgment; your full attention is a gift that you give to the speaker.
Listen to the spoken verbal message for the actual words being said for the beginning of understanding.
Observe the "not-spoken" — the non-verbal cues in the way words are delivered.
Listen for the person's "context" — both the external and internal contexts that are the background of the message and which drive it. Listen to what is said, what is not said, and what is behind the words.
Listen for the meaning, not just to the words.
Avoid deciding what you will say in response while the speaker is still talking.
Mold your understanding into a single question or statement and share it when there is a natural opening in the conversation.
Listening is a basic building block of trust in a relationship. At Connect, listening is a crucial part of how we work. Listening to our clients, to reporters, to analysts and to the social media communities gives us the upper hand to know how to best help them and make our clients look good and get the results they need. This level of trust in a relationship is one of many reasons our clients stay with us for so many years.
Maybe you know someone who could use some help in this area who seems to have two mouths and one ear? If so, I hope this list is helpful. If you think you've got these skills mastered, just ask your significant other how you do in this area. But, that's probably another blog post for another venue …