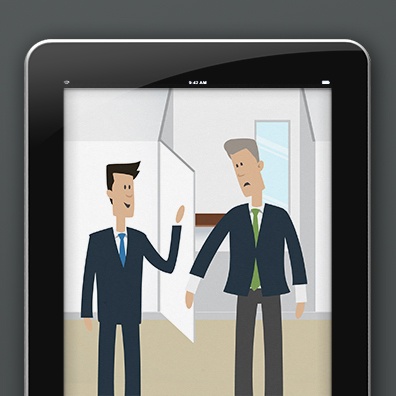 Unless I happen to be standing courtside at an NBA game, I'm pretty easy to spot in a crowd. I'm 6'6", which is great when I'm playing basketball, but it can be a real problem when doing everyday things like shopping for clothes. If I'm fortunate enough to even find clothes in my size, I have to try every single item on, even though the labels all indicate the same size. You've likely experienced this frustration too: picking out two shirts or dresses that are the same size, but are made by different companies, and finding that one fits while the other does not. (Don't even get me started on airplane seats.) One size truly does not fit all, at least that's too often my experience.
The same holds true for your company's social media program. Just because something worked for a competitor, or even for you at your last company, does not mean it's appropriate for your current organization. Even in a crowded tech market sector like cyber security or storage, your company is different, and your social media efforts should reflect the uniqueness of the expertise and solutions you offer to your customers.
I've been around long enough to remember when platforms like Facebook, LinkedIn and Twitter launched, and saw even the largest enterprises with very savvy marketing and PR professionals struggle to figure out how to leverage them to interact with customers. The promise of a new effective marketing tool was there, but there was no instruction manual. A common refrain was "our competitors are doing social, so we need to do social," and companies would just start posting stuff without any formal strategy.
With apologies to Bob Dylan, the times they are… well…. not a-changin'.
Don't get me wrong, you should absolutely feel compelled to launch and maintain an ongoing social media program. Our research has found social media and search engine optimization (SEO) dominate inbound marketing lead sources, each producing 14 percent of all marketing leads. That places them far ahead of other activities such as exhibiting at trade shows (8 percent) and traditional advertising (6 percent). Additionally, social media has a 100 percent higher lead-to-close rate than outbound marketing.
Too often organizations take a particular campaign that worked for one business, copy it and then try to make it fit theirs. I frequently hear someone say, "When I was at [insert company name here] we did a [insert activity] campaign and it worked really well. I think it will work again. We should do it here." Often the activity has to do with an event or stunt, and simply will not work under the current circumstances.
In order to have an effective social media program, a measured, thoughtful approach needs to be taken. Researching your target audiences, so you develop an understanding of how they like to be communicated with by their current and potential vendors, and through which specific platforms, is the critical first-step.
In addition, B2B social media programs and campaigns often fail because the company tries to mirror something clever that worked for a B2C company. Don't fall into that trap. Consumers' interests and buying habits can change quickly, and consumer tech product lifecycles are much shorter than those for business or enterprise technologies. A B2B social program should focus less on raising visibility and more on building relationships. It is less emotional, more rational.
I've seen countless organizations put efforts into Facebook contests simply because Facebook has the largest stable of users. A better approach for many B2B organizations is to spend time building relationships in forums or other online communities, such as Spiceworks or LinkedIn. The number of likes a Facebook page has is not as important as a strong relationship fostered on thoughtful dialogue in an ongoing discussion thread in a relevant LinkedIn group. Yes, visibility and reach is important. However, building transparent and strong relationships is more critical to helping expand brand visibility.
Realize too that a social media program must evolve as your audiences expectations, habits and wants change, or new industry trends appear that may force them to consider new solutions to new problems. As a result, it is just as important to make sure you have an ability to regularly measure the effectiveness of your efforts to ensure the long-term effectiveness of your unique paid, earned and owned social programs. If you are not meeting key performance indicators along the way, you should modify the program immediately.
The topics of researching and understanding your target audiences, setting realistic program goals and expectations (for you and your executive leadership team), and measurement are all important and all merit their own blog posts. So that's exactly what I will do in upcoming posts.